Steel GI Pipe
Hot-dip galvanizing it is an effective metal anti-corrosion method, mainly used in metal structure facilities in various industries.
The rust-removed steel parts are immersed in a molten zinc solution at about 500°C, so that a zinc layer is attached to the surface of the steel parts, thereby achieving the purpose of anti-corrosion.
And the Steel GI Pipe process: finished product pickling-water washing-adding auxiliary plating solution-drying-rack plating-cooling-medication-cleaning-polishing-hot-dip galvanizing completed.
Steel GI Pipe
Standard : BS 1139
Length : 6.0 m
Outer Diameter: 48.3mm
Thickness : 2.5 or 3.0mm
Surface : Galvanized
Steel GI Pipe Product Details
2 inch hot-dipped galvanized steel pipe gi pipes
Product Specification:
| | |
| --- | --- |
| Material | Q195,Q215,Q235,Q345,Gr.B |
| Outer Diameter | 1/2"-8" (round) 20×20–200x200mm(square) |
| Wall Thickness | 0.8mm-10mm |
| Length | 5.8m/6m/12m or customized |
| Standard | EN39,ASTM A53,BS1387-85,GB/T3091-08,JIS-G3444,ISO65,BS1139 etc. |
| Zinc coating | Pre galvanized:30-120g/m2;Hot dipped galvanized:220-480g/m2 |
| End finish | Plain/ beveled ends or threaded with sockets/coupling and plastic cap or grooved |
| Inspection | With hydraulic testing,eddy current and infrared test |
| Delivery time | Within 20days or as your request |
galvanized steel pipe Specification
Diameter
mm
Thick
mm
Min. Thick
mm
Length 6m
Nominal Diameter
Inch
kg/m
kg/pc
DN15
1/2
21.3
2.8
2.45
1.35
8.14
DN20
3/4
26.9
2.8
2.45
1.76
10.56
DN25
1
33.7
3.2
2.8
2.554
15.32
DN32
1.25
42.4
3.5
3.06
3.56
21.36
DN40
1.5
48.3
3.5
3.06
4.1
24.6
DN50
2
60.3
3.8
3.325
5.607
33.64
DN65
2.5
76.1
4
3.5
7.536
45.21
DN80
3
88.9
4
8.88
53.28
DN100
4
114.3
4
11.53
69.18
DN125
5
140
4.5
15.942
98.65
DN150
6
168.3
4.5
19.27
115.62
DN200
8
219.1
6.5
36.12
216.72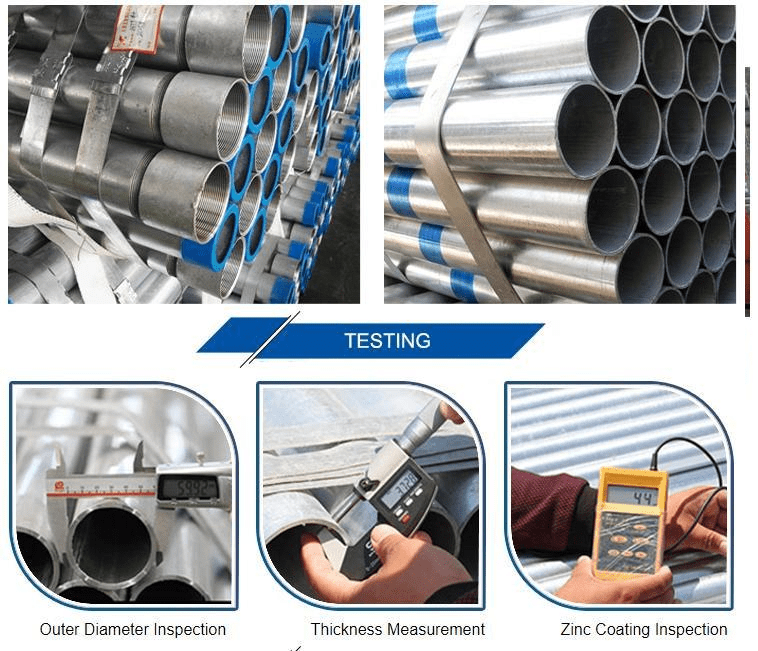 FAQ
1. Can steel GI pipe be welded?
Steel GI pipe can be welded with the simplest E6010 electrode in arc welding.
As selective corrosion starts in the welding area and spreads to other areas, the main purpose of the GI pipe is lost because the zinc layer on the surface will be melted by doing so.
2. Where is steel GI pipe used?
Steel GI pipe is usually used to build temporary scaffolding systems or as guardrails, or to distribute treated or raw water in rural or urban areas.
Because the steel GI pipe is cheaper, lighter, and easier to handle.
3. Is the sample of GI pipe for free or not?
A sample of regular GI pipe specifications will be provided free of charge.
if other types of customization GI pipe is needed, we need to communicate.
4. What is Steel GI Pipe?
Steel GI Pipe is a steel pipe that has been galvanized.
This coating protects the Steel GI Pipe from corrosion.
The Steel GI Pipe is most commonly used in outdoor construction such as fences and handrails, or in some indoor GI pipes.
It is sometimes called a GI pipe.
5. The history you don't know about Steel GI Pipe:
The electroplating process of Steel GI Pipe was first discussed by scientists in the 1770s, nearly 60 years after it was finally introduced in the 1830s.
French engineer Stanislaus Tranquille Modeste Sorel obtained the first patent for the process of the Steel GI Pipe in 1937 and began manufacturing shortly thereafter.
By the 1850s, Europe began to produce the Steel GI Pipe manufacturing plants located in continental Europe.
6. How many types of zinc coatings for the Steel GI Pipe?
There are many ways to apply the Steel GI Pipe, each of which will determine the thickness of the Steel GI Pipe's zinc coating and its ultimate durability in a specific environment.
The most common types of zinc coatings of the Steel GI Pipe are:
Pre-Galvanized Steel GI Pipe.
Hot Dip Galvanized Steel GI Pipe.
Electro Galvanized Steel GI Pipe.
7. How about your Steel GI Pipe's quality?
We seriously control the quality of the Steel GI Pipe from raw material to production finished.
QC Quality Report of the Steel GI Pipe, SGS test of the Steel GI Pipe can be provided if you have any need.
Please be assured that our steel GI pipe is qualified.
8. Steel GI pipe Price advantage?
Our Steel GI pipe's price is moderate because we are a manufacturer who can give you the first-hand price.
9. How can I get a steel GI pipe quotation from you?
You can leave us a message about the Steel GI Pipe's Specs & Quantity, and we will reply to every message in time.
Or we may talk online by chatting Apps to talk about more details.
And you can also find our contact information to get the Steel GI Pipe Quotation Sheet on the contact page on our website.
10. How do I keep my Steel GI Pipe from rusting?
The best way to protect the Steel GI Pipe from rusting is to insulate the metal.
Install insulators when producing the Steel GI Pipe, such as wearing pads or pipe shoes.
Insulators add a buffer between Steel GI Pipes, so the metal stays durable longer.
11. How do you cut Steel GI Pipe?
Yes, we can cut to the sizes of the Steel GI Pipe you want.
You can also cut the Steel GI Pipe by yourself.
When using the metal cutter, you should aim the tool at the marked position on the Steel GI Pipe and turn to make the wheel cut deeper until cut off.
12. What are the characteristics of Steel GI Pipe?
The Steel GI Pipe is with Corrosion resistance.
The Steel GI Pipe is with Good mechanical properties.
The Steel GI Pipe is with Good low-temperature toughness.
The Steel GI Pipe is made by Welding, cold resistance, heat treatment.